It seems like for travelers it was a horrendous year due to the Covid Pandemic causing many restrictions and almost killing landscape photography in the process. But, for me personally some things actually did work out. Sadly some of my workshops were postponed to later dates (you can already check our 2021 and even 2022 offerings here), but I was able to guide groups on the Lofoten and two times in the alpine foothills at least which was fun and I did some shooting on my own each time before my clients arrived. On top of that I was in Norway two more times for scouting trips for Lyngenalpen and Senja Workshops in 2022, returned to the Icelandic Highlands for three more weeks for additional scouting for a exclusive premium Workshop with Marc Koegel next year and even got to visit Slovenia with Sven Herdt. And well, I got to start my own little tour agency with Jonas Piontek called Fernweh Fotoreisen, where we can offer tours that have been tailor made for our clients.
All in all it was a decent year for my personal photography despite the pandemic, although almost none of the plans for the year workout out past March, when the restrictions in Germany kicked in. I started a humble youtube account on which I am working right now, scripting some new ideas for some helpful advice and recorded some new very entertaining podcast episodes, as well.
Last year I wrote "In terms of travelling this year wasn't much in comparison with the last two years, but who knows what next year will bring, I am positive that I will be able to chase those landscape photography experience here and there and get to meet some great clients, partners and new friends!" – I guess that did not quite work out, now did it? But I guess what I did miss the most where the trade fares like Photokina and Fotohorizonte where I usually meet friends and colleagues, we have a beer and engage in meaningful conversation about landscape and nature photography. Sadly with Photokina now being cancelled indefinitely part of that will only continue in the realm of memory from now on.
---
But, alas I don't want to be pouting here, things will get better afterall. Anyway, without further ado I present to you my finest works of the year formerly known as 2020.
# 10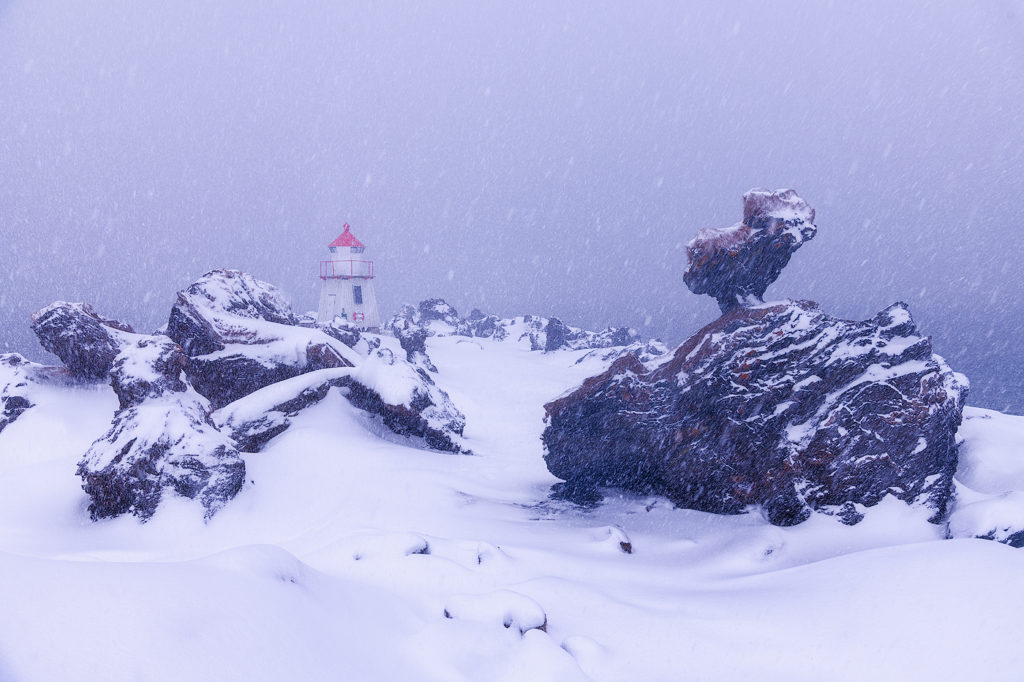 Interestingly enough this is one of the first works that I have taken during an actual snow shower that really turned out the way I envisioned it. Shooting in these weather conditions is quite challenging since the visibility has to be exactly right for the given motif. So usually it is easy to have just a tad too much snowfall or just not enough. In this case the visibility was literally perfect, isolating the motif from the open ocean behind, yet giving the impression of heavy winter weather. Not to mention it was an adventure having to speed things up due to the incoming tide cutting of my path back to the car by slowly submerging the rocks behind me. I came back in time with this picture, it felt like a triumph to me to have beaten the odds and the weather to it.
# 9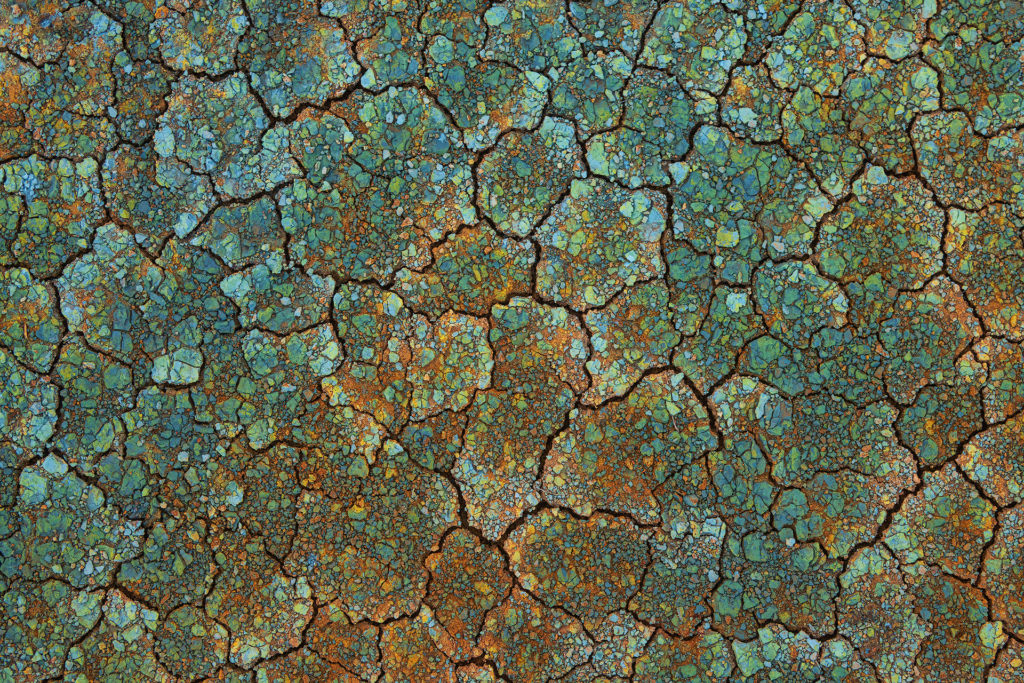 Something of a break in aesthetics this image seems to be when compared to my usual style. But when I came across a big geothermal field in Iceland this year I simply had to give it a try and capture some of the weird shapes, colors and patterns it had to offer. I had to tread very lightly in order not to leave any footprints on something that might have been a motive all the while looking for what may be a suitable frame to capture. One wrong step and I would've had to come back next time when the patterns would've been reformed by rain, weather and geothermal activity. Ultimately I came away with a nice shot that captures the beauty of dried mud cracks with the sulphuric colors of Icelands wild volcanic present.
# 8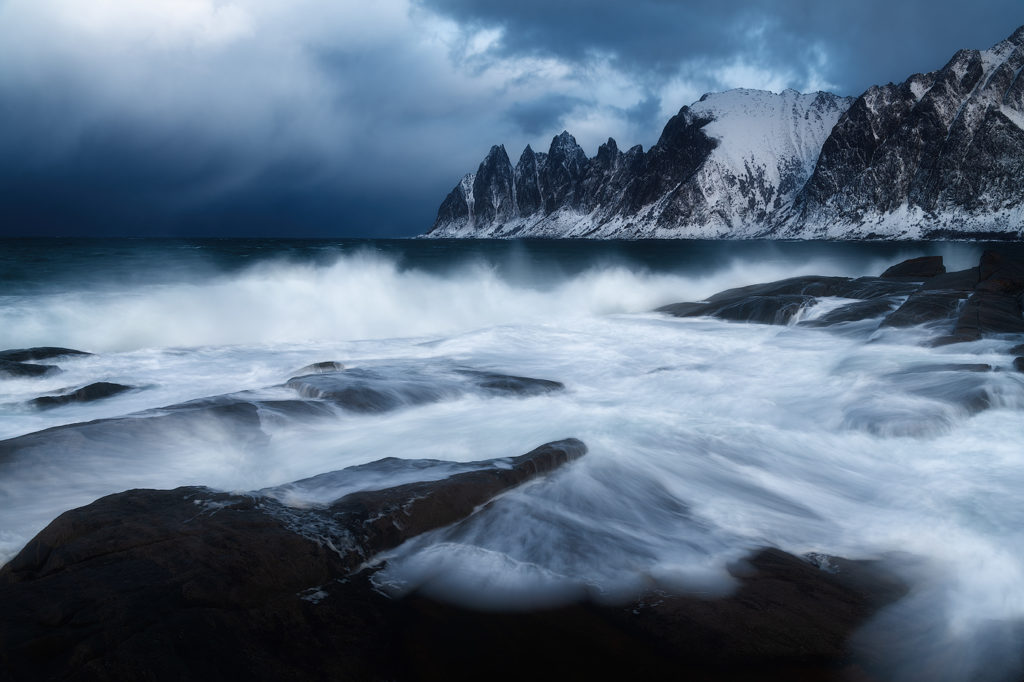 I guess this is one of the wildest images that I have ever taken. And by no means this is a very safe spots. I've heard stories of photographers that lost their equipment in this spot – several by now. Jonas Piontek and I always put the safety of our equipment first, meaning we watched the waves for 15 minutes during receding tide, slowly inching closer to the position where we wanted to shoot. Still the weather made it incredibly hard to shoot because of the wind and flying sea spray. Without my extra sturdy FLM Tripod this shot with a fifteenth of a second exposure time might not have worked out in the wind, which sometimes had me take an involuntary step to catch my balance. I wanted to catch this unrelenting force and to me it seems I have managed to do just that with this shot. To think this was the lights the days during the polar night on Senja get is pretty depressing to some, but I love the darkness of the north.
# 7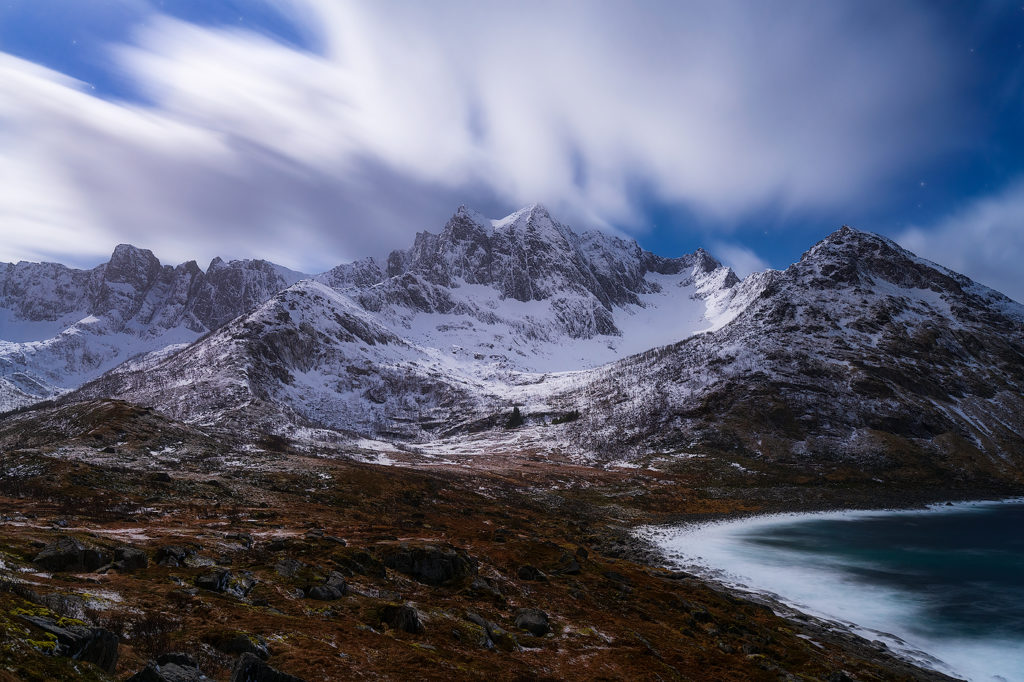 The second image from that Senja trip that also made it onto my wall as a big print is this one. I haven't seen any other image from this place as of yet, which makes me proud to have found it with the help of some locals who told us about a small cabin in the area which was worth visiting due to its gorgeous view. Jonas and I decided to head up the hill further for a higher perspective, actually hoping for some aurora to fill the sky portion of the frame above the mountain range. We did get some, but only faint lights flickering in the north. However the clouds and moonlight make up for the lack of northern lights in my opinion. And much like the previous shot this captures the ferocious nature of the dark months in the arctic portion of Europe quite well.
# 6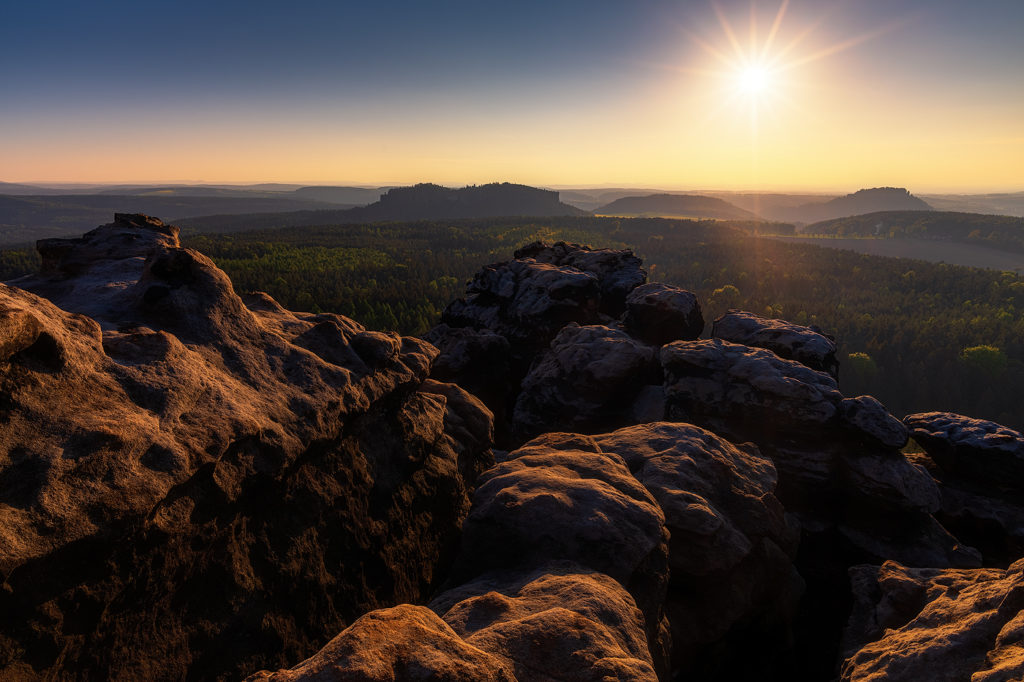 This is an image that in itself doesn't really seem to stand out. It is not technically perfect, nor does it have the best weather or light. But its simplicity felt just right after the first lockdown in Germany. After weeks of anxiety whether or not the entire year would be screwed in terms of photography I decided to simply head out and practice some social distancing. I met up with Philipp Lutz und Tino Klein to shoot in Saxony Switzerland, maybe also to assure myself that sometimes a good time with friends in a more local setting (even though for me it is still a six hour drive) can also be satisfying – just in case travel wouldn't be an option in the near future. We sat up there having a beer, just watching the sunset and enjoying ourselves, talking about where to go, what to see and what to photograph when all of this is over – very much something I would love to do right now, as I am sure many of you would.
# 5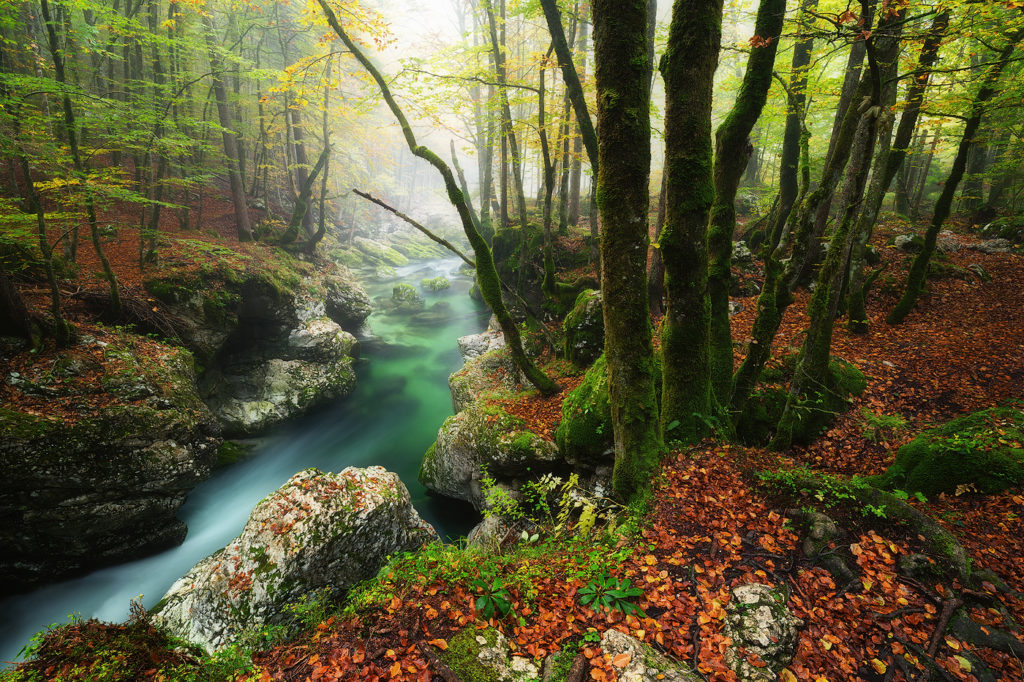 Another image the story of which is somewhat connected to Covid. I could've called it the edgerunner I guess. After the conducting a successful workshop in Berchtesgaden I met up with local Sven Herdt to drive down to Slovenia, and only days after our departure the area we had just left behind became Germany's no.1 hotspot and got entirely locked down. And just a week after we came home from Slovenia the same happened in the area we visited. A certain trepidation was always in the back of my head when wandering around the many streams of the Julian Alps with Sven, thinking that if the German government decided that the area we were in would be added to the risk list we'd have to go to quarantine once home. Luckily this never materialized. I guess as time goes on this weird feeling that I somehow transferred into the image will hopefully fade, and only the glory of that hike and the stunning scenery will remain. In spite of these weird conditions I shot this in, it made it onto the list. I guess this means that the image really is pretty darn good. I love how the fall colors on the floor are juxtaposed with the lingering greens, about to turn yellow and ultimately fall as well. I have to say that I felt really lucky to be able to visit and explore parts of a new country I hadn't visited before, despite the ongoing pandemic.
# 4
This image also mainly has some emotional reasons for making it on here. I have only seen very few images of this place and when I made my way to the Lofoten earlier this year to guide a workshop I knew that I would love to share this with my clients because it is all too easy to simply go with the icons instead of going for some of the more unknown options. In this case though I was looking to show the clients a great view from the islands over to the mainland and with the sun mainly shining in the south we got some interesting light towards the horizon line. The image is heavily filtered with a set of GND and ND filters and a 3 minute exposure, enabling me to take an image while instructing my clients on compositional options. Somehow I still remember standing up there on the hill with the clients having a chat about exposure times and experimenting with different focal lengths. The epitome of what I love so much about guiding workshops, seeing people trying new things in new, breathtaking scenery, experiencing the creative synergy in the process.
# 3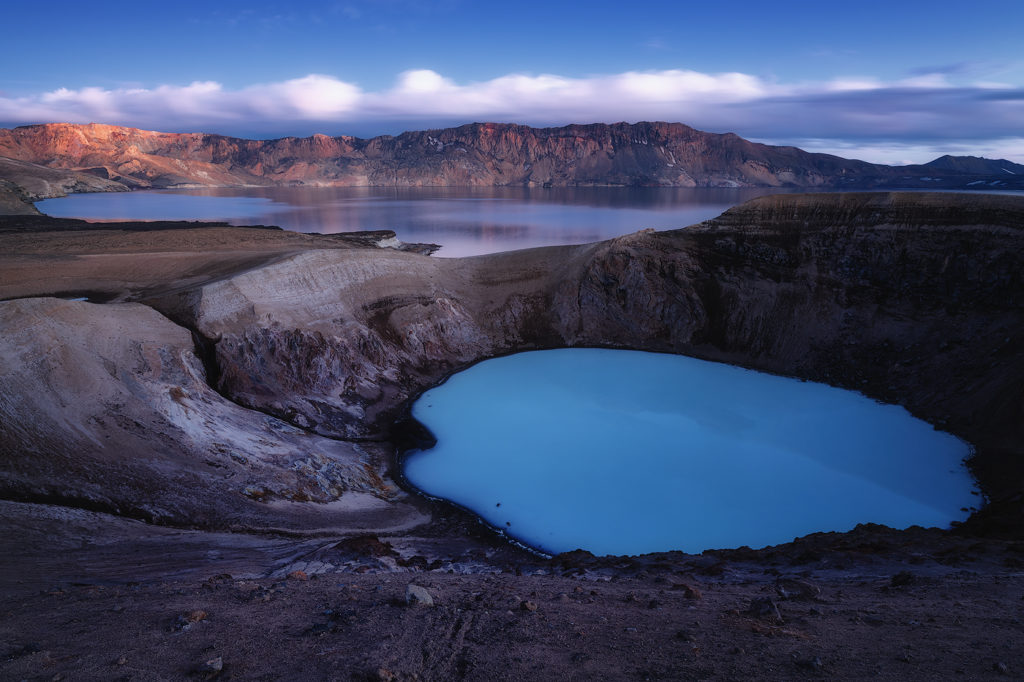 This image was possibly simply revenge. The last time I was in the Icelandic highlands and visited the Askja crater landscape in 2015 I couldn't even get my camera out because the wind was so strong it kicked up sand and even small stones and I didn't want my lenses to be sandblasted. So ever since then I wanted to return and photograph its grandeur. Due to the inability to visit other countries further away, I teamed up with Marc Koegel and Philipp Lutz for an epic highlands trip, and this spot was on the top of my list. With little tourist on the island and even fewer in the highlands we had the magnificent place all to ourselves and were able to enjoy the silence within the craters of Askja. As per usual I preferred the blue hour shot to the one with the burning cloud above the rim. It's so tranquil and the blue in the sky for me compliments the blue of the crater lake. This shot did very poorly on the social medias, but for me it is one of my favorites of the year.
#2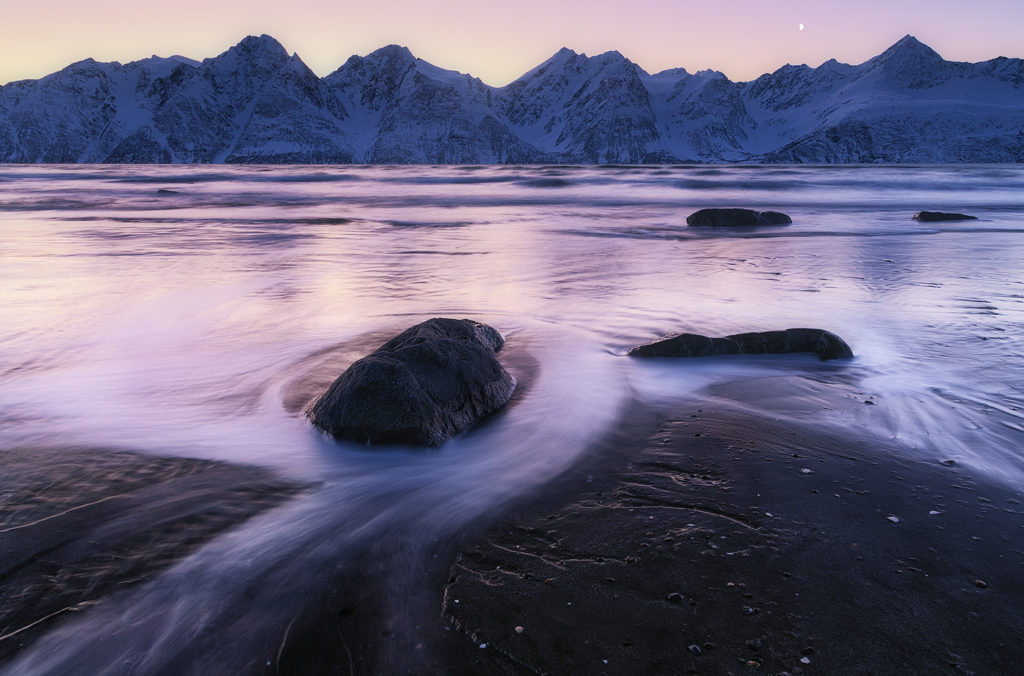 Well, this is again one of those images that I had in mind for ages, having found this beach via Google Earth and intending to shoot it for years. So, finally after years of neglecting the idea I convinced Jonas Piontek to head up north with me again once more. I guess again one of the reasons I love this shot so much, is because I was able to shoot something especially the way I envisioned it. Somehow getting exactly what I want is always the best feeling – I guess landscape photographers are just human as well, huh? In order to get to this small island along the many fjords of the Lyngenalps we took two ferries and drove a bit out of our way and it was so worth it. If there was a single shooting opportunity this year that felt most blissful and relaxed it might have been this one. Not a single person on the beach aside us we shot the blue hour for at least 2 hours (since it lasts longer in those latitudes), just wandering up and down the frozen sand beach enjoying a place I am pretty sure almost no landscape photographer has visited thus far. Oh, and afterwards we headed out to shoot aurora, sadly not on the beach though – since we had to catch the last ferry before that – but that was also pretty darn fun.
Here's a video clip from our Lyngenalpen Trip edited by Johanna Besseling:
# 1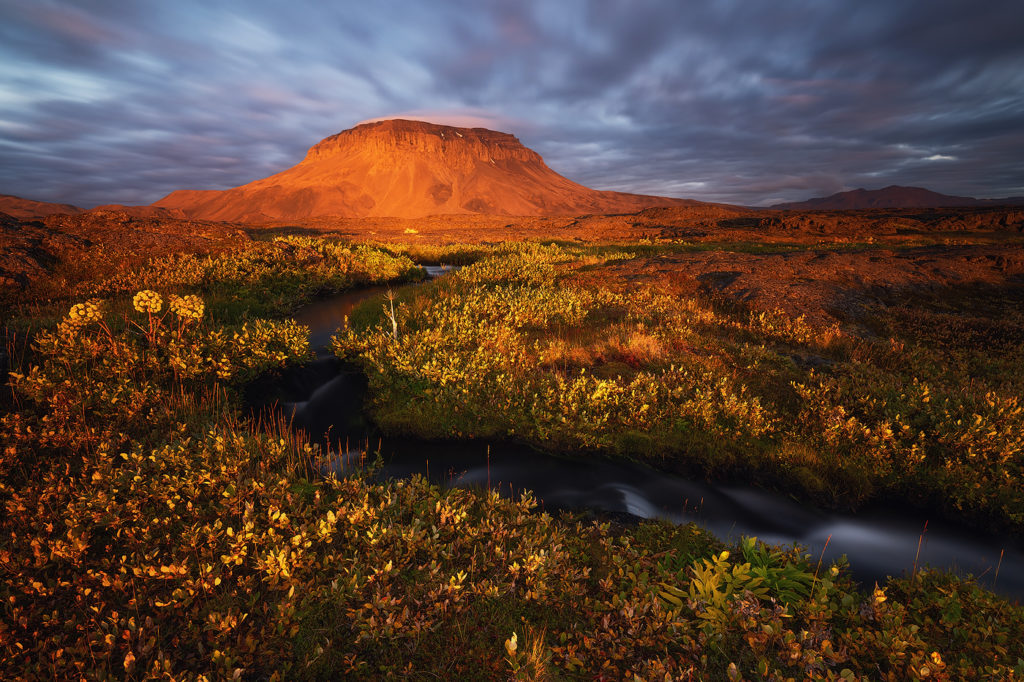 For me there was never any doubt that this would be my number one shot. Another image that I chased after in 2015 but sadly didn't have the right conditions and only one morning with little cloud. This time around I was able to convince my fellow travelers to spend three mornings in the area to give me the chance to get the conditions I wanted. On the third morning ends met and I got the alpenglow on the tuya and the volcanic springs in the foreground. Another image I took this year that I have never seen in any other photographers portfolio, something I am pretty proud of. And having this shot in mind for five years and finally being able to realize it felt absolutely amazing! Like I said 2020 wasn't all sitting at home pouting for me.
---
So neither my Alaska trip nor my Japan trip that was actually set for 2019 did happen in 2020 either, and at this stage making travel plans for the first half of 2021 seems weird. Heavyheartedly I decided to cancel all my winter workshops making my Teneriffe workshop in May the first one of 2021. I am optimistically though that summer and fall workshops will commence. So, if you've read this far you may be interested to check out my offerings here:
Other then that I would be lying did I say that I do not have any plans as far as private photography is concerned. It's just a matter of what alleys of action open up first. I have spent so many days lately planning new adventures just in case any of them may be in the realm of possibility in the first months of the year. So I wish all of you the best for 2021 may your travel plans work out and may you all stay healthy. Good luck and good light!