Partners:

Für die deutsche Version bitte runter-scrollen
The Photographer:
I am a semi-professional water, urban and landscape photographer located in western Germany. I've been active in the field of photography since about 2008 and I'm continuously working to improve and realizing my vision of unique atmospheric scenery. During my childhood I was frequently traveling all over the earth with my parents on countless endeavors being the son of a geographer and a biologist and hence I have inherited a strong sense of wanderlust. During my youth I got into contact with video-editing and digital design and soon got also interested in photography, a hobby my father and grandfather also indulged in on their journeys across the globe.
During my studies in the field of East Asia Studies I started pursuing this form of art passionately starting with my second visit to Japan; at the time still with my father's DSLR. Shortly after my return I bought my own camera and headed out on a prolonged trip to America. Since then I've been traveling mostly throughout Europe to further explore the grand landscapes of my home continent. For years to come I have now been venturing to to places like Norway, Portugal, through the Alps and the United Kingdom, always hunting the perfect light conditions and iconic places. In my pictures I always focus on conveying an slightly romanticized impression of the mood in front of the lens, thereby carving out the heart of the experience, forming it into colors and shapes.
I'm an autodidact for the most part, although I  have had training in photography during my university career (Master of Arts Media Studies and Anglistics), ranging from image theory to the means of print production from the digital image to the finished exhibition. Resulting I've had several exhibitions and was published in different media (Landscape Photography Magazine, Foto Hits, Essence of the Outback ). I'm also lead vocalist in the Progressive Death Metal band "Words of Farewell" – currently signed worldwide by AFM-Records. The band can be found here.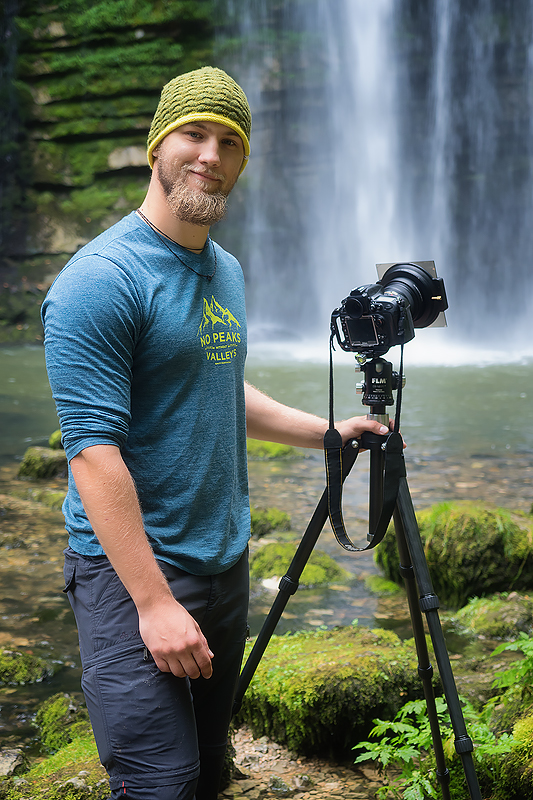 Artist Statement:
For me photography has always been connected to a sense of escapism. Since the very beginning I've always been shooting during my time off and during travels, capturing my experiences and impressions for the tedious moments at home and the regular daily bustle. The notion of the far away just waiting to be explored has always been propelling me forward to visit new locations and sights I haven't seen yet. Also, being a very technically interested person, I always liked the combination of being out there, the artistic expression and the technical challenge that photography consists of; even including the post work, sitting on my desk for nights on end, trying to get the best out of the shots I've taken.
I use the medium of photography as an excuse to break out once in a while and head out on road trips throughout Europe, always keeping comfort to a necessary minimum, sleeping on location, roaming long distances with a backpack my  trusty camera always at my side, and my eyes wide open. Also I frequently indulge in photographic exercise, trying to improve my technique, training on the mundane to sharpen my vision and to optimize my skills. Thus over time I have developed various techniques and skills to pursue my artistic vision and hopefully inspire other people to pick up a creative hobby.
In a post-modern world where orientation is somewhat lacking I try to focus on what is important, which is to engage in new experiences, set new goals and challenge oneself to become a better person. Photography is the medium with which I can always gain a new perspective on my surroundings, capturing the essence of a life, listening to the heart beat of a time.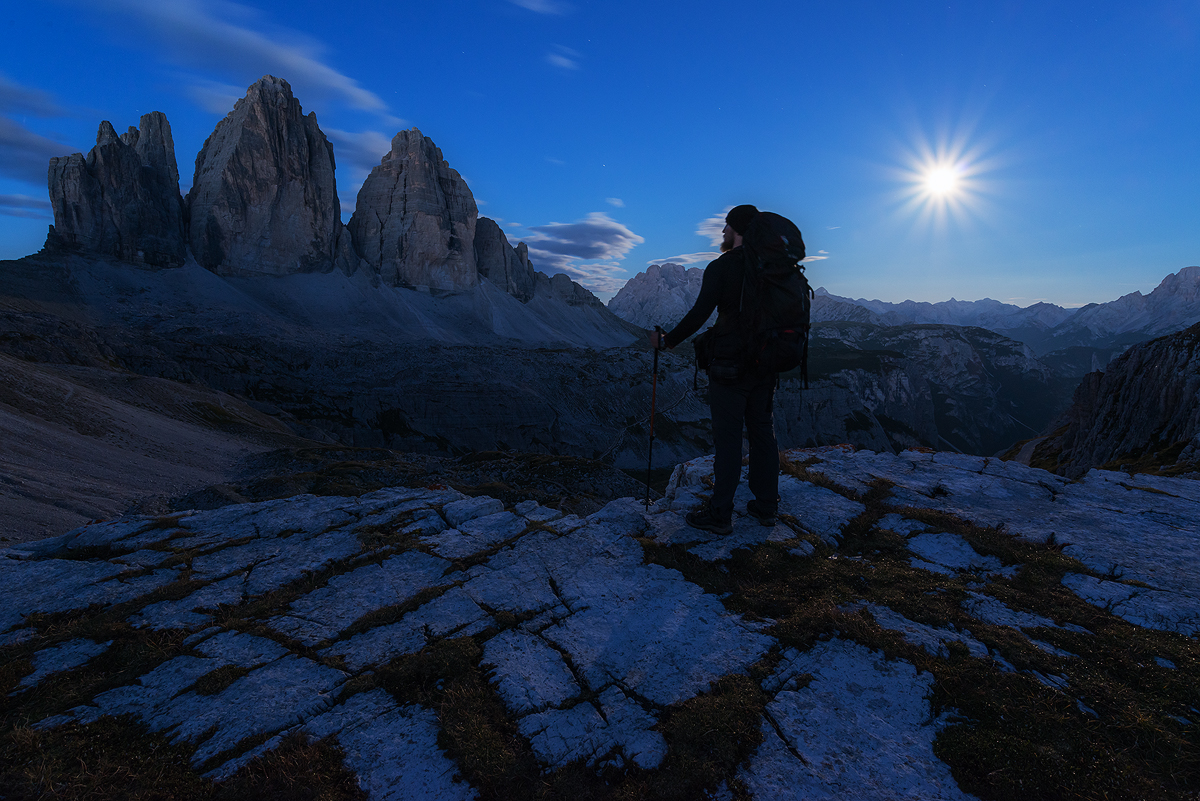 Equipment:
I often get asked about my equipment because the stigma "a good camera makes a good picture" is still stuck in peoples heads. Before reading on remember that it's you who takes the picture, plans the shots, drives to the location, walks up the mountain, crawls out of the tent at 3am, walks to the spot, and then knows how to handle the camera and how to do the post-processing, not the camera.
Most of my time as a photographer I've been using Pentax bodies and even now I am convinced that their cameras are the best bargain for any photographer starting out and even for semi-professionals. I also used Tamron and Sigma lenses, because I believe in facts and empirical data not brand names.
Still since I have a need to be able to print big sizes I switched to Nikon recently because the D800's quality and resolution is key to big high quality prints. After my switch to full format bodies I am now also using Nikkor lenses for the most part.
Just as important as the body and lens are the filters and the tripod. I've been using various tripods for years, depending on the situation. But for some time now I have settled with FLM – a German tripod manufacturer that still produces in Germany – and have since built up a cooperation with them for various events and workshops. Their gear has never let me down. My filters are exclusively Haida Filters. I've been using them since 2012 and am a proud Haida ambassador since 2016.
Deutsche Fassung:
Der Fotograf:
Ich bin ein semi-professioneller Wasser-, Urban- und Landschaftsfotograf aus Nordrhein-Westfalen aktiv seit etwa 2008 und arbeite mich langsam Schritt für Schritt vor auf dem Weg zu dem perfekten Bild, welches meine Vision und die Atmosphäre vor Ort einfängt, immer darauf bedacht mein Handwerk zu verfeinern. Schon in meiner Kindheit war ich viel unterwegs in der Welt, da meine Eltern einen ausgeprägten Sinn für Reisen und Kultur besaßen. Als Sohn einer Biologin und eines Geographen kam ich bereits früh in den Genuss wunderschöne Landschaften und Orte besuchten zu dürfen; von Ihnen erbte ich das Fernweh, welches mich heute oft antreibt. Während meiner Jugend kam ich in Kontakt mit Video-Editing und digitalem Design, welches zu einem meiner Hobbies wurde und mich ein paar Jahre später zur Fotografie brachte, eine Tätigkeit die in meiner Familie bereits eine besonderen Status hatte, da mein Vater und mein Großvater bereits ambitionierte Fotografen waren, immer wenn der Ruf der Ferne sie um die Welt reisen lies.
Während meines Studiums der Ostasienwissenschaften, und eines damit verbundenen Aufenthalts in Japan, noch mit der DSLR meines Vaters, began ich damit diese Kunstform passionierter zu verfolgen. Kurz nach dem ich wieder kam kaufte ich mir meine erste eigene DSLR und reiste für längere Zeit in die Vereinigten Staaten. Seit dem bin ich zumeist durch Europa gereist, um die Landschaften meines Heimatkontinents zu erforschen. Seit vielen Jahren reise ich nun durch hiesige Lande, nach Norwegen, Portugal, Island, Spanien, Frankreich, Großbritannien und oftmals in die Alpen; immer auf der Suche nach dem besten Licht und ikonischen Orten. In meinen Bildern versuche ich immer einen romantisierten Eindruck der Atmosphäre vor der Linse zu vermitteln, mit welcher ich die Essenz des Ortes und der Erfahrung auf den Sensor banne, in Farbe und Form.
Für den meisten Teil bin ich ein Autodidakt, jedoch habe ich während meines Studiums der Medienwissenschaften  und Anglistik (nunmehr mit Master Abschluss) eine gewisse theoretische und praktische Ausbildung in Fotografie durchlebt, welche mir eine gute Basis für Inspiration und technischem Know-How bot. Dort lernte ich von Bildtheorie über den Druck digitaler Bilder bis hin zum kuratieren von Ausstellungen die Grundlagen der Fotografie. Im Zuge meiner Ausübung dieser Tätigkeit als Fotograf habe ich schon Bilder in diversen Ausstellungen präsentiert, wurde in verschiedenen Medien publiziert (weiter unten finden Sie eine Auswahl) und wurde in verschiedenen Disziplinen ausgezeichnet. Des Weiteren bin ich Sänger in der Progressive Metal band "Words of Farewell", welche momentan weltweit bei AFM-Records unter Vertrag steht. Die Band können Sie hier finden.
Künstler Statement:
Für mich persönlich hat Fotografie immer eine gewisse Verbindung zum Eskapismus besessen, insbesondere Landschaftsfotografie. Seit ich die Kamera in die Hand nahm, habe ich immer fotografiert, wenn ich frei hatte oder auf Reisen war, und fing meine Erlebnisse und Eindrücke für die eher trägen und mühsamen Tage zu Hause ein. Das Gefühl des weiten Landes und der Ferne, welche nur darauf wartet erkundet zu werden, hat mich stets angetrieben neue Orte zu besuchen und Dinge zu sehen die ich noch nicht zuvor gesehen habe. Außerdem bin ich eine sehr Technik-affine Person, Ich mochte schon immer diese Verbindung aus einfach draußen sein, der kreativen Komponente und der technischen und körperlichen Herausforderung aus der Fotografie besteht. Das beinhaltet auch Nächste lang vor dem Bildschirm zu sitzen und das beste aus den Fotografien zu kitzeln was technisch möglich ist.
Das Medium der Fotografie ist auch eine Entschuldigung dafür hin und wieder auszubrechen, und mit dem Auto quer durch Europa zu fahren, und den Luxus auf dem nötigem Minimum zu halten, direkt vor Ort zu schlafen, lange Distanzen mit meinem Wanderrucksack zurück zu legen, die Kamera immer griffbereit und die Augen weit geöffnet. Ich bin auch immer wieder unterwegs, um eine Talente zu verbessern, dass heißt ich arbeite auch mit Gegenständen die auf den ersten Blick nicht sonderlich aufregend wirken mögen, aber dennoch den Blick schärfen. Somit konnte ich über die Jahre eine umfangreiches Repertoire an Techniken aufbauen und entwickeln welches es mir erlaubt meine künstlerische Vision zu verfolgen, und hoffentlich auch andere Menschen damit anzustecken ein kreatives Hobby aufzunehmen.
In unserer postmodernen Gesellschaft, in welcher es immer weniger Orientierung zu geben scheint versuche ich mich auf das wesentliche zu konzentrieren: neue Erfahrungen zu machen, sich neue Ziele zu setzen, Herausforderungen zu suchen und daran zu arbeiten ein besserer Mensch zu werden. Fotografie ist das medium mit welchem ich zumeist eine neue Perspektive auf meine Umgebung gewinnen kann und den Kern eines Lebens einfangen kann, steht am Plus der Zeit horchend.
Awards:
Monovision Awards 2017 – Honorable Mention
Foto Hits – Nachtfotografie 2017 – 1. Place
International Photography Awards 2016 – Honorable Mention – Fine Art: Landscape
Heartbeat of Nature 2016 –  4. Place – Overall
dot.ART Urban 2016  –  1. Place – Nature
Mono Awards 2015 – Honorable Mention – Architecture
Getty Images – WONDERlust Photo Contest 2015- Overall 3. Place
EPSON International Pano Awards 2015 – Silver Award – Landscapes
Landscape Photography Magazine July 2015 – Photo of the Month
dot.ART Urban 2015  – 3. Place  – Overall  &   6. Place – Architecture
Blende 2015 Local Qualifier 2. Place – Landscapes
ND Awards 2015 – Honorable Mention – Night Photography
Your Favorite Night Sky Photo Contest 2015  – Carl Zeiss Planetarium Jena –  2. Place Overall
Publications:
Landscape Photography Magazine
N-Photo
dpreview.com
Camera Pixo
Foto Hits
Essence of the Outback
Street Photography Magazine
View World Magazine
Interviews: